200HR YOGA TEACHER TRAINING RETREAT
Trust the process. return to bliss.
Deepen your practice and experience personal mastery on a paradise island. Koh Phangan rests on a bed of rose quartz crystals and is celebrated for exhilarating growth, healing and transformation. Get nourished with hearty organic meals, fresh vibrant juices and world-renowned Thai Massages. Most importantly meet like-minded people and learn from world-class teachers who also have dedicated their lives to mastery in their fields. Be inspired every step of the way, and prepare for a complete LIFE UPGRADE as you are guided through our unmatched curriculum, that is guaranteed to change your perceptions, abilities, and sense of Self.
*ALL BOOKINGS ARE NON-REFUNDABLE. NO NEGOTIATION.
'The course was everything I imagined and more! They incorporated strong asanas, inversions, pranayama, strength training, yin yoga, philosophy, methodology, anatomy and chanting which I loved! The course taught me strength on a physical and spiritual level, definitely NEXT LEVEL work!'
Our Yoga Alliance accredited Teacher Training Retreats, are RESULTS DRIVEN with carefully mapped out curriculum to support each individual's specific level and needs. We have trained hundreds of students of all ages all around the world, in carefully selected and energetically powerful,beautiful resorts, from Peru, India to Bali, and now in Thailand. You will be immersed in a deeply supportive and collaborative environment to exhilarate your journey of transformation and personal development.
CURRICULUM
In a supportive environment physical and spiritual dimensions of Yoga are taught in an accessible format. Yogas vast and timeless philosophical teachings are a focus on the programme and If presented optimally this ancient knowledge can be as inspiring as it is life changing providing fresh perspective to enhance the life experience.
Your foundation practice each morning is Ashtanga vinyasa based with Inversion/handstand transitions throughout. The course is suitable for ALL LEVELS due to individualised attention. Variations and preparatory postures and the full expression of the postures are taught so that each practicioner has a framework to practice optimally within. There is a 1.5hr handstand / arm balance /conditioning workshop daily as well as a 1.5 hr adjustment and alignment class both to support safe and optimum progress.
Methodology consists of learning practical hands on adjustments of asana and developing your empowered voice as a teacher and guide. You will have the opportunity to teach daily and develop your own creative sequence.
You will learn how to create freedom in your breathe to access and remove tension, and how the correlation between alignment and ability to breath optimally are essential in yogic practice.
Meditation is taught with a focus on breath awareness during the physical practice to make each yoga class a moving meditation. This helps prepare the mind and body for seated meditation and pranayama. You will also be introduced to Mantra meditation and how to incorporate these into classes.


PHYSICAL PRACTICE
Vinyasa
Restorative Yoga
Adjustment classes
Teaching workshops
Power Vinyasa sequencing
Tantric breath / pranayama practices
Inversion / Handstand / Strength workshops
YOGIC LIFESTYLE, SELF MASTERY, ANATOMY AND NUTRITION:
Ethics
Yogic diet
Sattvic living
Self Mastery
Nature of mind
Debunking yogic myths
Essential human physiology
Functional Human Anatomy
Respiratory system and its functions
States of consciousness and meditation
Principles of Yoga therapy and healing
Yoga as therapy (benefits/contraindications and therapeutic use of asanas).
ONE ON ONE
We understand that in one group there can be many varying levels of practcioners and we run by the motto that knowone is 'better or worse' than anyone else. We have all just placed different ammount of time and energy into different things.
As previously mentioned each individual is given their own variations and access points to each asana for optimum progress in a supportive, uplifting and fun environment, making the programme accessible for ALL LEVELS.
We do not discriminate nor wish anyone to miss out on the immeasurable benefits of the curriculum so our teachers put in more work to ensure high quality of instruction and individualized attention.
YOGIC ENERGETICS:
Koshas / Pranic bodies
Prana and higher evolution
Illness and elemental imbalance
Different pranas and their functions
Regulation and rebalancing of prana
Chakras / Nadis and correct flow of Prana
Phychical energy centers and function of Prana
Heating, cooling & balancing pranayama techniques
Blockage Release work / practice and understanding
YOGIC PHILOSOPHY:
The power of Mantra
Philosophy (Bhagavad)
Yoga sutras – Aphorisms of Patanjali
Ashtanga: The eight limb path -Patanjali
The theory of Karma and freedom (Bhagavad)
Devolution of elements according to Samkhya philosophy
Different paths of Yoga:
Jnana Yoga
Karma Yoga
Bhakti Yoga
Ashtanga

200hr Trainings In Koh Phangan, Thailand
DOLPHIN BAY BEACH RESORT
JULY 3RD - JULY 19TH, 2020
300hr INVERSION BASED VINYASA YOGA TEACHER TRAINING
AUGUST 25 - SEPTEMBER 15, 2019
DOLPHIN BAY BEACH RESORT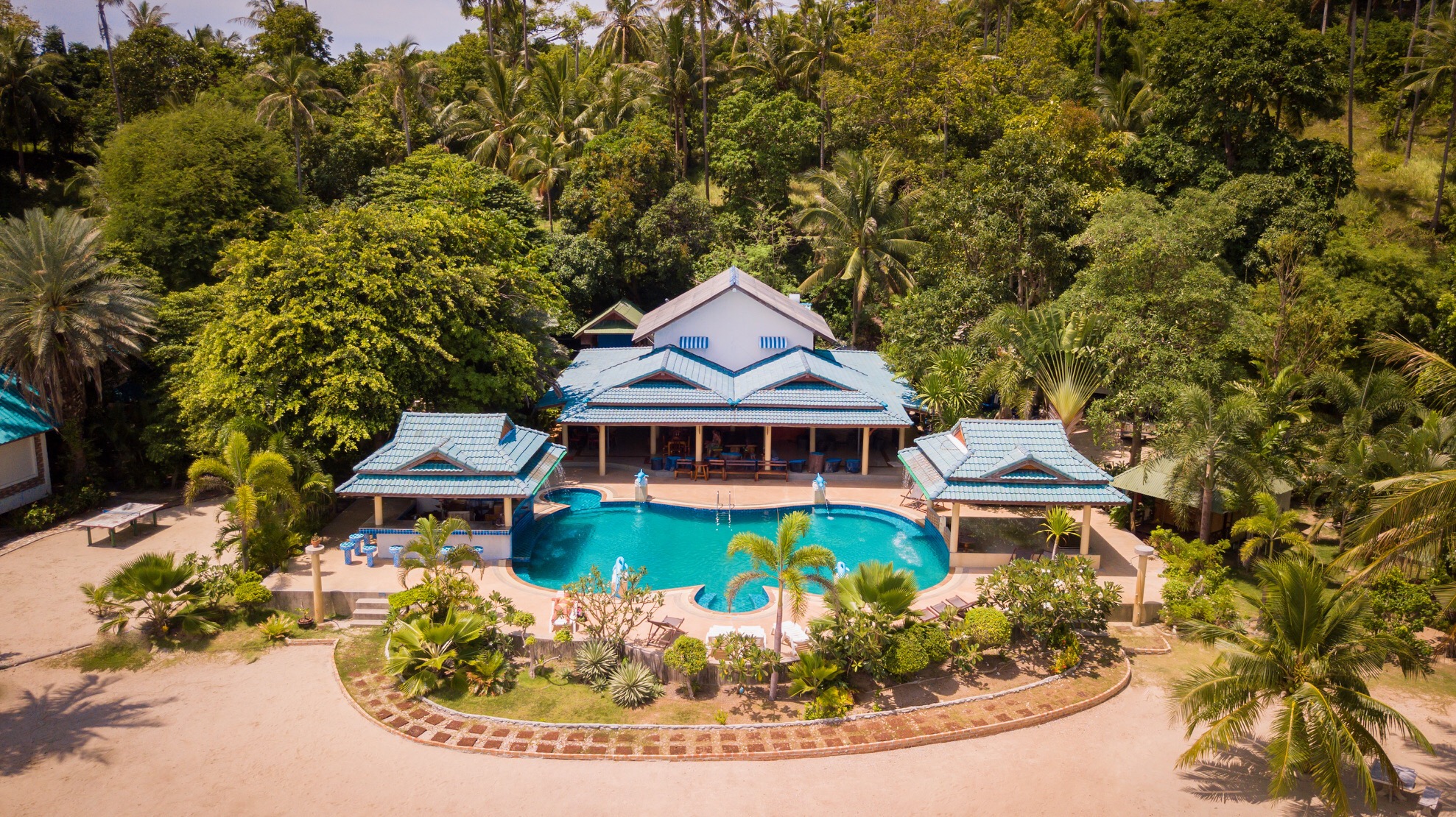 You can now register for all three trainings in Thailand. Please note spaces are limited to 20 participants to ensure high quality service. NO REFUNDS. Please be sure to purchase travel insurance for any unforeseen circumstances.
Dolphin Bay Beach Resort, Koh Phangan is located on the ocean with private apartments just a stones throw from beautiful crystal waters. Being surrounded by the ocean creates a very supportive environment to compliment our deeply transformative curriculum. Experience our programme and this sanctuary with us if you are sincere in seeking profound personal metamorphosis. Until this very moment we have provided life-changing experiences to thousands of people from across the globe.
To apply please contact us here.
*Please register your interest by following the link and we will contact you shortly! After email exchange and approval for the training is granted, a 50% deposit is required to secure your place here: https://www.kalpanaradhikayoga.com/connect/
NO REFUNDS. Please be sure to purchase travel insurance for Amy unforeseen circumstances.